Kettle 100 Relay
'Tis the easiest 100 miles a team could wade through.
This is OTC and I'm writing to tell you about the second 31 (27ish) mile leg of the Kettle 100 relay race. Rain is never a concern when you are provided with ankle deep mud to cushion your footfalls for 8 miles of swamp. The hills are great because you get to actually run/control fall when going down. I shuffled up them like a champ. If you're really lucky, you could come across a striped snake on your path. Not panicking was obviously my first response. You might have found my dead body on it because I nearly went flying when I tried to stop and my thigh bucked up in a leg cramp. This snake then pretended it was a stick and wouldn't move even when I rolled rocks over it. Then the leg cramps really set in. The aid stations are awesome…when you get to them. They have great watermelon, drinks, salt and electrolyte pills, salted potatoes and all kinds of nutritious food. Really stupendous. It was all I could think about when I was down to a crawl and out of water. I came across another runner with heat stroke on his return in the 100k race. Let's call him Just Mustache Ken. He needed water too. I got Mustache to move for another 100 ft to a road crossing where a driver there gave us what water he had. Mustache sipped up some, but his speech became incoherent and he collapsed and didn't respond. The driver was gone already, a runner hadn't been by for 10 min, so I ran to get help. At this point, a surge of energy hit me. My legs sprinted beneath me and after a mile I came to the next aid station at mile 25 where my team was waiting for me. I briefed Mr. Rhythm, and he got the aid crew to go back for the Mustache. MK was okay, I was told they revived him.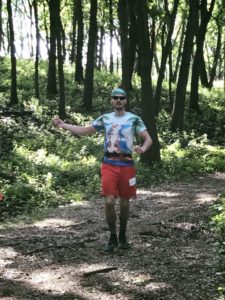 By now, my adrenaline rush had subsided so my legs turned to jelly. The next runner on my team was Just Annette who was willing to take my extra miles at the next stop. Problem was getting there. Michelle Vick almost had to piggy-back me to the next station, but she got me through 2 more miles.
The day wasn't over yet.
Let's back track for a moment. Shafted had the first leg of what looked like would be a beautiful day of running. Nice, cool, and slightly overcast. That cast quickly turned into a swell after a few hours. Half way through his leg, the skies opened up. Fortunately for him, this was a blessing, and so Jesus, I mean, Shafted hurtled through in near PR timing at 5:18. Those swampy meadows I was swimming through? His sandals floated over those. The hills I puffed up? He blasted through them. Hopefully he will elaborate on this heroic feat of will and super strength.
Back to Just Annette. If Shafted was impressive, this girl was pure stunning brilliance. To recover my crippled body, I kept on the move and visited the upcoming crew stops to cheer on my team. Face to face cheering totaled to about 5 minutes because she was a thunderous powerhouse, stopping for only a cup of water and orange slice in her 23ish miles. And she said she was out of shape. She nearly beat the sunset, arriving to her final point still in the twilight.
Now it's dark. The frogs are croaking across the star-reflected Rice Lake. The rocks and tree stumps glistening like gems in your headlamp. Your feet tripping in the unseen dips and holes. Bats nipping at your ears. The headlamp slipping over your sweaty nose. This is the leg Fedora the Anal Explorer absolutely reveled in. Her final push brought our team to third overall and second in the mixed gender category! Star athlete effort! Total overachievers!
Now our focus could turn to drinking. None of us moved very far from the Nordic aid station for the remainder of the night. Beer, lambic, and wine was passed around as well as the salt and potatoes. Whole watermelons were consumed and more were given out to take home. A bonus was the acoustics of the tent echoing the moans and whimpers of runners nursing their blisters and blackened toenails. Many supportive volunteers were hugged and tears shed gladly. Eventually the beaten bodies were gathered together and rolled out. Devotion was paid to the trail in a homage of body that day. The broken ankles were amputated and sold to 100 milers who had lost theirs on trail. None left whole, but all hearts were filled full with pride.
Many thanks to all the volunteers including: Mr Rhythm, Can't Find It, Can't Hold It, Michelle Vick, Samori Sex, Puppy Poker, Trysexalot, CoCo, Two Buck Suck, Trapper Pussy MD, Princess Buttercunt, not hungover/sleeping Felter, and many others.
There was also a couple harsher sightings. I can't remember who, but if something reminds me I'll update.
Try my moose balls! 😉