Take 1: Authored by PWH
Procession

With premeditated precision our pack (On the Cock, Rotten Bone Her, and myself) pounced on our unsuspecting Paavo Virgin (Jeanie Weanie) and persuaded him to be the prodigal protector of our persons (D.D.) for the prolonged path to Hurley (primarily by plying him with promises of Panera…)
In retrospect, I know not if it were he, or we who were pawn or prey, but needless to say, our journey of peril was well underway…
He showed proclivity toward play, and apparent patience of saints, so we packed up his car and pushed on with the day….
Nay, with preternatural speed, our prescient pundit began plotting our punishment for our failure to properly perceive the power of his half brain….his placid, pleasant countenance perfectly masked the roiling rage beneath his pate….
But in beerfull oblivion we went on our way…and lo found the Big House for us to stay…
(Highlights of Parts)
Paavo: Prior to Silver St: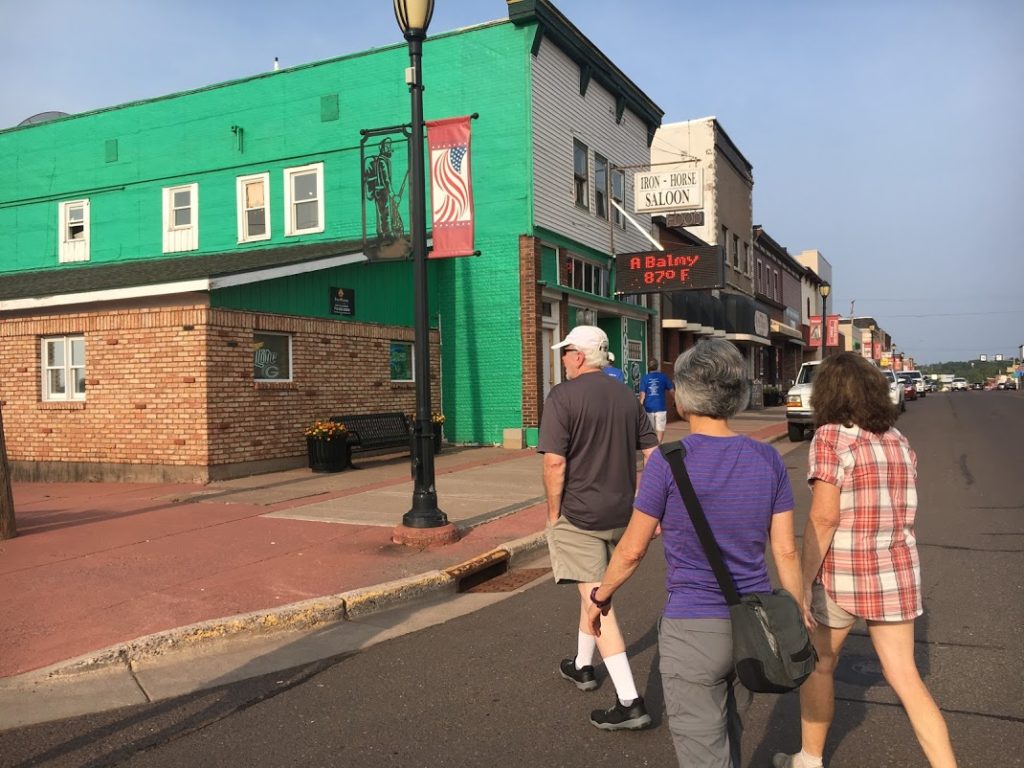 Big House: pre-pre-lubed with Old Man Beer (Miller High Life) at the House and then proceeded out for dinner…
Enraged waitress pummels Hashers with glass shards when Nostradumass informs her she hadn't poured him a proper measure…
Taint Happening is DFL to the Bell Chalet but proves his worth by polishing off all potentially annoying leftovers
Silver St:

Mr. Rythmn proclaims flour is required for Pub crawl trail…Impatient Hashers plow forth and prove him wrong…
Rapture ensues when Pit Stop offers Happy Hour precisely when we all really need $1 drinks (beer and rail booze all for 1 Buck)…where was 2 Buck??
Before:
After: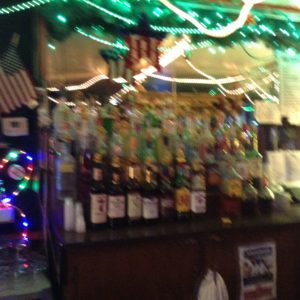 Fergie and PWH blithely play Pied Piper and potentially lead Hasher lambs to slaughter by following Man with Watermelon/Mobster/Monster/Mommas Boy and his cute little doggies up a precipitously steep flight of stairs to his Pugnacious Pleasure Palace….
Once perilously in place all Hashers half minds intuitively protect identity except our lovely and lithe OTC (probably we should post a sentry at his door to prevent him from being stolen and sold to the highest bidder to perpetually perform pole dance feats till he puts on a paunch….which sadly will never, ever happen….but I digress)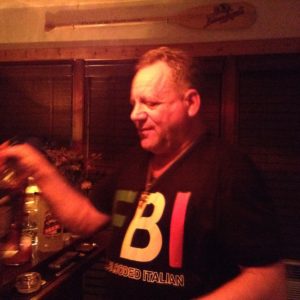 MWMMMBoy (Full Bodied Italian for short) propelled us into his Escher maze of stairs and endless rooms with of course more stairs by promising shots….Hashers of course were powerless to resist…we were paraded past his eye popping piles of possessions, poles, and spray tan demonstrations ensued…our pupils pulsating to laser lights…
Air felt thin on the roof of his unnerving maze amidst mantras about Momma but we managed to resist the pull of the vortex and puppies and break free (after, of course, pounding his pilfered shots…)
Staggering with relief we survived to feel the pull of neon light of the Silver Dollar Strip Club…
There Mr. Rythmn is mesmerized The Barbie (in all her airbrushed improbable flesh, temporarily parading as if free from her FBI connection) she pumped her pecs with precision and earned my respect
PWH befriends pretty pole dancer to get skinny on Mr. FBI….per Ruby he "is not a good person"…WH proceeds to shiver…
Tainty and Will HO flee Silver Dollar after police come in search of FBI….on the street they get plucked from the post pub crawl crowd by prostitute with local John sporting mutton chops…
Said John confirms we were lucky to escape the Pleasure Palace…states the whole town prays they may protect their own from the FBI…
Will HO (the party pooper) declines offer to play with prostitute much to poor Tainty's dismay…
Tainty miraculously remembers route back to the Big House, but not to pocket his keys before locking his van…
Fast forward a few hours to the purpose (???) of our journey:
Paavo Nurmi Marathon:

Refreshed by 120 minutes of bourbon scented slumber, PWH and Howie prod reluctant Jeanie Weanie into PR and medal by getting him to Gile (start of his half) 20 seconds late…
Rotten Boner, OTC and Nummy narrowly miss DQ by partaking in potassium both on course and in illicit pub pit stop…(I possess photo proof)

Blow Hole (channeling her inner Pecker Mache) helps Silver Alert Team win Masters Relay Division by pretending to be over 40….
Samori Sex proves she has pacing the full down to a proverbial art form….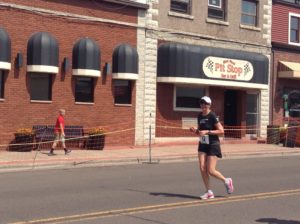 Jubilant participants pile back to Big House perfumed like petunias….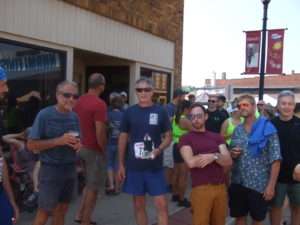 Three Lakes/Hutchins Bay:

PHW pulls fast one pretending to "mistake" car cover for tent so she can watch Perseids and "sleep" center spoon with OTC and Jeanie Weanie…
Can't Hold It pilfers pull tabs from every can she can…

Jeff Daniels provides plush portable living room/wedding pagoda complete with plentiful and merciful dual purpose tulle…
Perseids prove plentiful….
In the morning Either Way proves she is worth her weight in gold by picking up after Hashers and brewing and pouring endless coffee with a perpetual smile….
The Chicken Fluffer projects his inner Robin Williams as he pours his whole person into a lyrical pantomime of song….onlookers get goose pimples and pink up with delight….
Running Bear Tri:

Proving they are gluttons for punishment, all Hashers earn wretched excess by performing feats of physical prowess two painful days in a row…as a reward they all look hot in cowboy hats…        
Nummy pummels his previous PR by 4 minutes….makes multitude of enemies by making punishing event appear oh so f'in easy….
he, Yaka…I mean Himalayme, and Rotten Boner all pick up cute, cuddly Bear awards….
Civilian participants school youngsters on the pitfalls of ageism and win best enthusiasm prizes…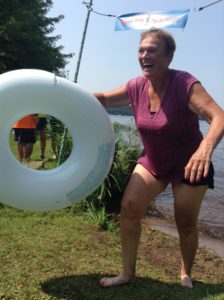 Post Event Pontoon:

Livers are provided with complimentary lake water lavage…
Rotten Boner, OTC, Nummy and Fergie patiently try and yet fail to teach Will HO proper bay frisbee technique…
ICUF and Colonel put up with Hashers yet again, providing precious memories for all, and a prosperous Tri….
Prolonged Trek Home:

Soggy, and smelling sour our pack seeks piles of sustenance (and 2 for one margaritas) at patient Tex Mex place in Merrill….
Lest you think he forgot our Virgin no more purrs with delight anticipating his precisely plotted return trip revenge…
How could we possibly prepare for his punitive playlist? He lulled us into passive puddles with pretty ballads then set his seething rage free…
Percussive pounding, sharp shrieks of sheer glee, piercing sounds short and boisterous…passionate squeals of minion jamboree….
Our lips parted, we were paralyzed, eyes protruding, eardrums pumping….our only possible recourse was to politely let him play…
Let's face it, we earned it, we had pure hell to pay…
Paavo Oh, Paavo, I love you I do…..no one gives good story like you…..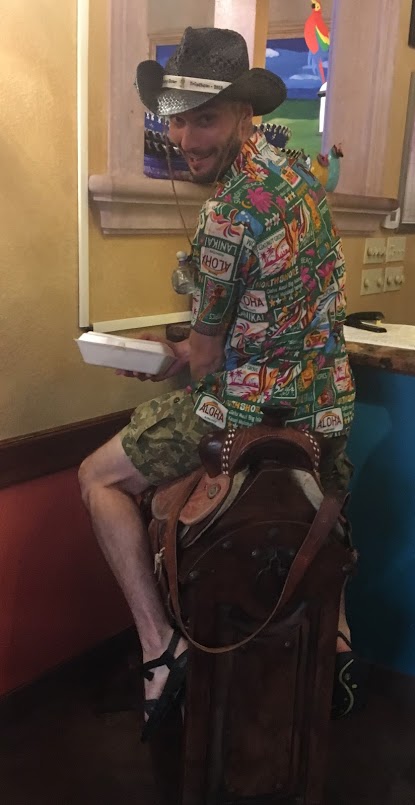 Take 2: Author OTC
Paavo Marathon/Running Bear Mini-Tri Aug 2018
In the northern region of Wisconsin in Hurley and Ironwood, MI the Madison hash convened on Silver St for a ritual endurance weekend. Livers of all sizes are challenged by marathon drinking, and relay runners fight through hangovers to seize the day.
This event began when we (Paging Dr Rotten Boneher, Pussy WillHo, and On The Cock) loaded into Jeanie Weenie's Ford Escape with 4 bikes, tents, gear and beer. PDRB was the most clever traveler with a thermos of Pseudo Sue IPA. We made it as far as the first rest stop for a piss break. JW was the second wisest and would not allow any other drivers in the captain's seat. His constant battle with the thermostat was admirable. The resolution to the conflict will likely not surprise many of you but would not be apparent to us until the return trip. We unknowingly blocked the vents for the rear seat with a bag and so were completely dependent on the front vents. However, only half those were open becuz the passenger side on/off switch was closed the entire trip up. Thus, the compressor overloaded quickly and would trip the breaker then would need to be restarted every 20 minutes. Trust it to hashers to break something before we even arrive.
The crew for the event included the relay team Silver Alert (name is under dispute, including Mr Rhythm, Can't Hold It, Road Beater, Himalayme, and Blowhole in fancy team shirts), half relay team (PDRB, and Jeff Daniels the Chicken Fluffer), marathoners Numbass and On The Cock, and spectators Howie Feltersnatch, Nostradumbass, and Fergie at the Big House. Samurai Sex (marathoner)and Puppy Poker (halfie) were smart and stayed well away from us. To fill out the roster of racists, JW got third in his division for the half owing his success to his hangover.
Before race day, trail began with dinner at the Liberty Bell Chalet. Plenty of carbo-loading before Silver St. We could tell the locals travel in style with their parked ATV's and even a retro-fitted motorized fat bike. A protest had formed inside to attempt to reverse the decision to close the restaurant in September. We waded through the signs of "Pizza for Life!" and grabbed a table. Through dinner a vortex formed around our table which sucked in a tray of broken water glasses and salad dressing cups. Not our fault, I swear!
Most of us made it to the bars for darts and cornhole or beer pong. Every establishment seemed to have games set up for us to strew about the place. Good luck to them finding where I lost a basketball at the hot hoops arcade! Best shot of the night goes to WillHo with a total swoosh in cornhole.
PDRB and I arrived early at the first strip club and lost the crew. Realizing we had friends somewhere and one of them had our bikes locked up we backtracked to look for them. Without much search, they made themselves obvious to us in the dwelling above a shop owned by what we would discover was a true gangsta. Climbing the stairs and wandering the halls we came upon them in the "Man-Cave" of Rossi FBI "Full-Blooded Italian" as his shirt declared. In the words of JDTCF:
"It's an appalling sort of tale, but not without a certain human interest component.
I remember sauntering along, looking up and seeing a wide stairway, two-stories long with no landing in the middle, and thinking, 'Nobody has ever fallen down those.'
I moved on and then heard Nostradumas comment on the blood-red, wainscoting-height paint.
I returned and as we looked up, a thick, upended bowling-pin of a man appeared with two or three tiny yapping dogs at his feet. One scampered down to meet us. The other retreated.
'That one's pregnant,' said the Full Blown Italian.
It was like a scene from The Cat in the Hat directed by Tim Burton.
By now there were more than a dozen of us looking up and listening to scary Don Rickles lay the groundwork for something everyone knew was wrong. Our eyeballs darted side to side looking for some sort of assurance. Waves of paranoia moved through the Silver Street air, already thick with an eerie sense of panic. We all knew we should run, but when the invitation came, we were pulled in like moths to the flame."
He first declared to the group that he had 3 felonies and couldn't own a gun but would like to invite everyone up for a line of shots because his evening was just beginning, according to Howie. He shared stories of visiting Al Capone in the hospital and of his stripper girlfriend Barbie (which Mr. Rhythmn met up close ;)) He then took everyone out and up to his roof garden. Mr. R and I explored. I was geeking out because he had KISS signed guitars, an autographed Kurt Cobain journal, photos of him hanging out with various hair-metal bands. I was in awe and then I noticed the queen bed folded down from the wall lit up with rainbow lights and topped off with ceiling mirror. That's when the creepy feeling started to set in. As we explored we made it through a maze of bedrooms, each a different theme; one with plush animals and a full-size stuffed tiger, not one but two tanning rooms which wreaked of oil and perfume, then we found his personal dwelling which displayed a live video recording system which included all 16 rooms. Beyond the point of freaking out, Mr. R and I rushed through the theater room with a full screen on one wall behind the stripper pole and nudey porn mags strewn tactfully for each cover to be displayed on the coffee table. We found our friends next to Rossi's wood chipper he was ranting on about, drawing them in closer, as we interrupted his speech to announce we had other places to go and precious lives to live. We left the cute little dogs to keep their enigmatic master company and split off.
Without further delay, PDRB, JDTCF, and I made haste to get back to the big house and rest for the next day. The rest of the crew would get their share of boobs and glitter on their own.
The morning of the marathon was a frantic search for misplaced bibs and coffee. Numby, JDTCF, and I made our way on our bikes to meet the shuttle for the start. Sammy and the Silver Alert crew met us there for a warm morning and the beginning of a grueling, hot day. We gathered our wits and when the gun went off we began the trek to beer. Numby and I accompanied the halfie team, JDTCF and PDRB. In total, we covered 4 beer checks before making it to the North Pole bar. It was the greatest day to gather miles and beer. If only we had paused for 1 more minute and 20 seconds we would have made it across the finish line with Sammy near about 5 hours. All the hashers from Madison made the finish almost within 20 minutes of each other. Fantastic hive mentality we possess. Maybe it's the beer talking to us.
There's not much to say about the after race cookout besides it was hot, only meat options, and pricey considering we could get the same food for half that in the bars in town.
The same day we headed to camp at ICUF and the Colonels…
We arrived after yet another pit stop for beer. The evening entertainment included swimming in the lake, hot tub, floating living room, bonfire, and a round of ceremonies. After forgetting most of the names and songs, PDRB made a close of the ceremonies so that everybody could lose their clothes. Passing out under the stars and being roused to a musical interpretive dance number by JDTCF truly centers the soul. Our objective for the morning being quite clear: to prepare for the day's triathlon; all of us sat about or floated in the lake until the start. ICUF and the Colonel laid a fantastic trail with Numby beating his old FRB record and many new boots completing the course. PDRB was fist lady in. We all finished just in time for the real activity of the day: drinking on a boat. At the point when we were all considering liver transplants we loaded up the cars and made for the direction of home. With our cowboy hats, we searched out mexican food. After my first mega-margarita, the rest was a blur of flying food and more margarita.
The End.
Habadasha Extraordinaira
On The Cock
Take 3: Author NumbAss
A Running Bear Story – Aug 2018
A Trip to the North Woods
This is the second year of the Running Bear triathlon.
I won last year and look to take a second victory.
Course Map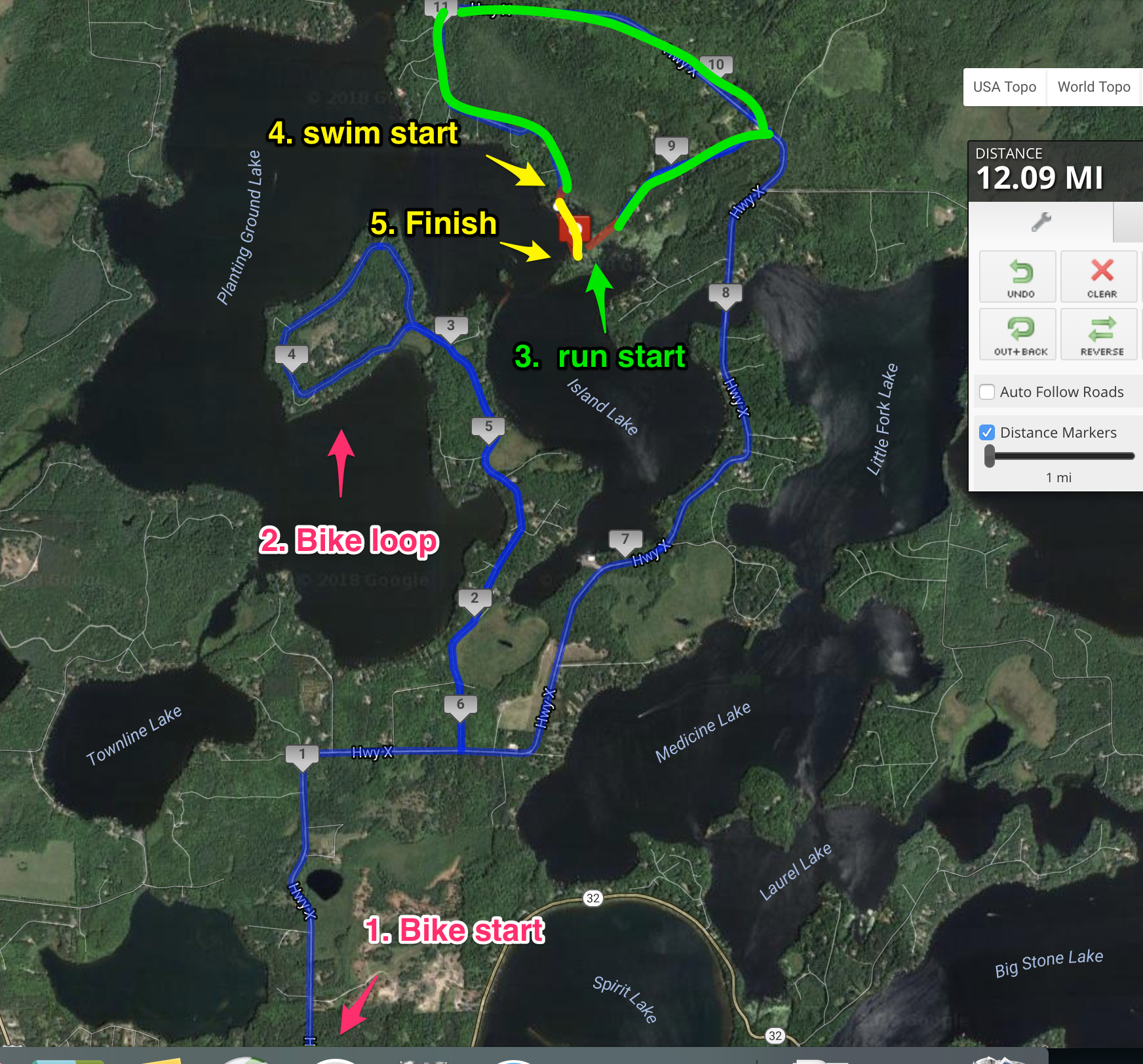 The course is similar to a sprint triathlon. The order of events is bike -> run -> swim. I was told the bike route is 9 miles, 5k run, and 200 meter swim. About 7 of the 9 mile bike route was laid with fresh blacktop. It felt like I was riding on butter.
Weapon of Choice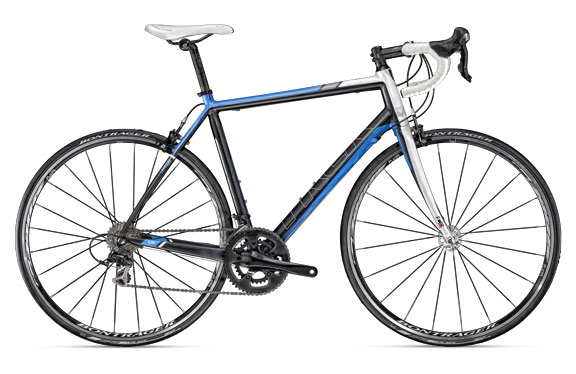 I once again choose Trek ion pro road bike. I thought it did well given that most of the route is pavement and smooth blacktop. Bit of gravel at the end, however, the time gained from riding on blacktop made up for it.
Run & Swim
I had a strong lead going into the run and spent the last mile slowing down my breathing for the swim. The technique worked well and I was able to swim well to my second victory.
Thwarted Selfie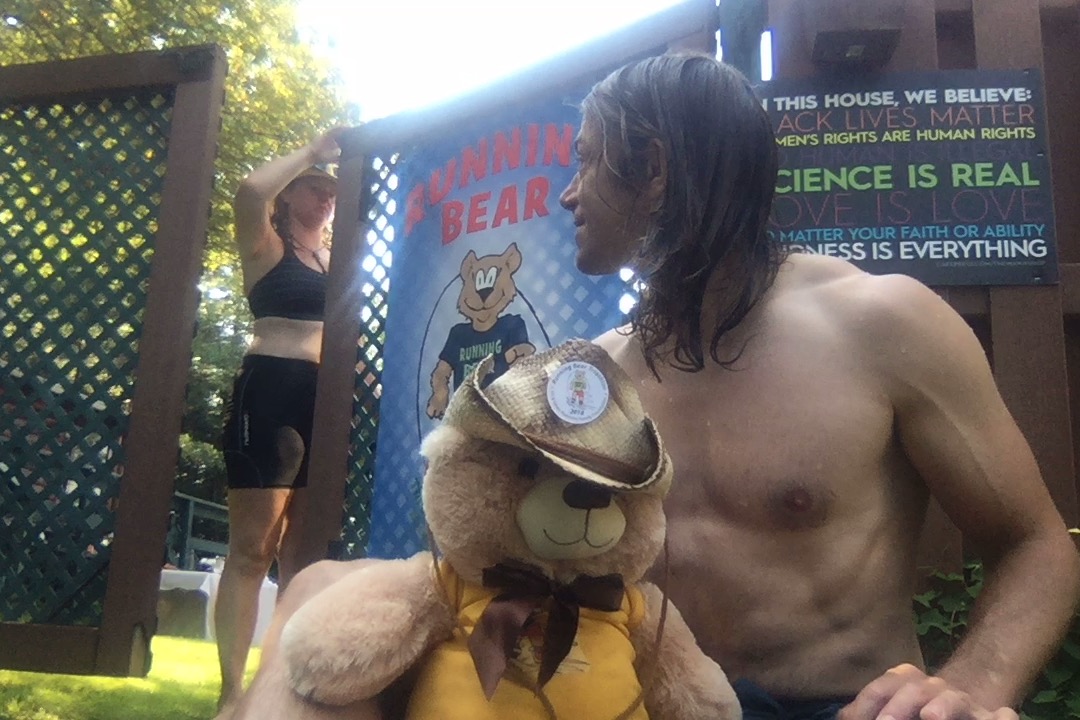 For being a gangster, I was awarded a giant teddy bear and a cowboy hat.
Three Lakes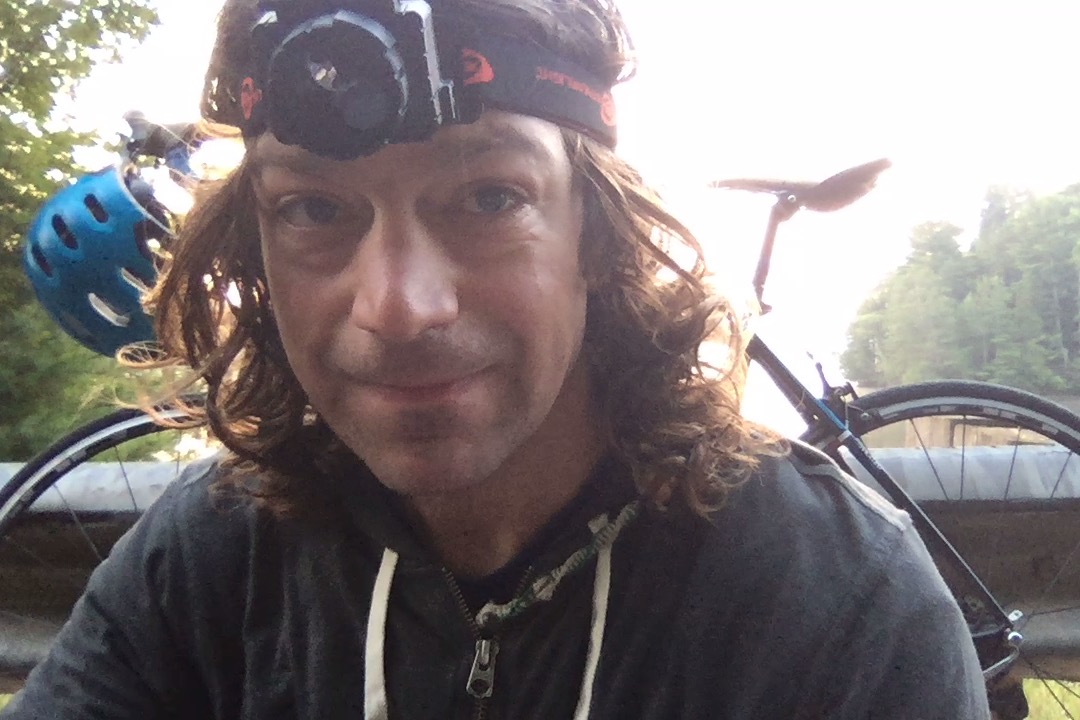 I spent a bit of time exploring the three lakes area on bike in the early morning. There was a thin layer of fog rolling over the lakes. The loons made it feel as if I was on some strange alien planet. Deer were everywhere on and along side the roads. It was good getting away from the noise.